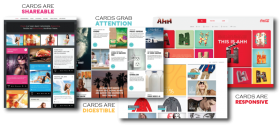 Thinking about a new website for this year? We're here to give you the 411 on what's trending for 2015! For our FIRST Trending Tuesday post, lets take a look at Card-Based design.
Cards are hot in web design these days. In fact, Pinterest, Google, Twitter, and Facebook are all doing it, so it must be worth at least a look!
Cards are packages of interactive information, usually presented in the shape of a rectangle. They can be used in a variety of ways to satisfy specific functions.
Here are the main reasons to introduce cards into your design:
They're an exciting alternative to overly gratuitous text.
Designing for mobile browsers is necessary, and cards are great for responsive design.
Because of their limited space, cards can't really say much. But that's Great! Readers who want more can click to get it.
Cards enable users to quickly and easily share bursts of content across social, mobile, and email platforms.
Be sure to subscribe to our feed, visit our website or give us a shout if you'd like to find out more about how to bring your site to the level of hotness you deserve!