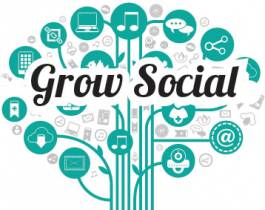 6:30pm Thursday, September 18th will mark the kickoff date for a free series of workshops to be delivered by Virginia's Growth Alliance and produced by Glerin.
The workshop will be presented in South Hill on Thursday, September 18, and will last about 2 hours.
The address for SPDC is 200 S. Mecklenburg Avenue South Hill, Virginia 23970; click here for a link to the location on Google maps.
Due to demand, 6:30pm Thursday, September 25th, we will present the same workshop in Farmville.
The address for LSBDC is 315 West Third Street, Farmville, Virginia 23901; click here for a link to the location on Google maps.
The first workshop will be an overview of the major social media outlets, explaining what each is, how they differ from each other, what they're used for, and how they can be used together in a coordinated way. Along with these topics, will include an overview of the new initatives of Virginia's Growth Alliance (VGA) and a discussion on how to get your small business involved.
Topics covered in the series will include Facebook, Twitter, LinkedIn, Google+, YouTube and more, using blogging and newsletters in coordination with social media and how to utilize the VGA's new Shop Local website to sell online.

Virginia's Growth Alliance is sponsoring the series as part of its "Think Bigger" initiative, partnering with Longwood Small Business Development Center, Longwood University and Glerin Business Resources to provide a unique combination of small business and entrepreneurial training that is rich in resources and strategies to encourage growth and success.
Complete this form to let us know if you want to attend, and which town you prefer.
In October the series will continue with monthly workshops focusing on a different social media outlet each month.