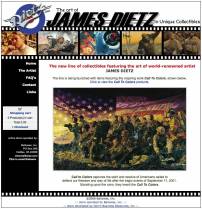 In the spirit of Throwback Thursday, thought I'd share a design from back in 2006.
Did you know we've been doing this since 1996?!?
James Dietz is an award-winning military and aviation artist whose work is collected worldwide, and even hangs in the White House. Back in 2006, our Ballowax small business division was actually a separate company (owned by Glerin and a couple of partners) that provided e-commerce order fulfillment services. We were contracted to develop a site to sell collectibles that featured Dietz's art; the new online store offered full-featured e-commerce including live interaction with USPS.com for shipping, live chat customer support, and the ability for customers to manage their existing orders.
We actually developed our very first e-commerce site in 1997 and had to code everything from scratch!
There were no shopping cart programs available for small businesses back then (and no PayPal!), and this was also our first MYSQL database-driven project.
That 1997 site was developed to sell a 3-volume set of books - individually and in 2- and 3-book sets. Because credit card companies hadn't yet developed a widely-used method of allowing small businesses to authorize online payments, we collected the payment information through a secure, encrypted form and had to manually process the orders after they were received.
We also sold the books through Amazon.com way back in 1997! Sometimes it's hard for me to believe how much things have changed since the beginnings of Glerin, and looking back at our old projects helps rekindle old memories. Do you remember when you first started using the web or having your first website developed? I'd love to hear your old stories.