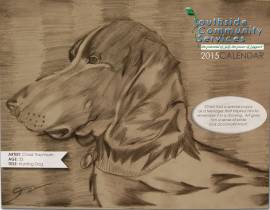 Southside Community Services Board wanted to help the community feel more connected to their clients and raise awareness of their Art as Therapy program. They were planning on holding an art show to display clients' artwork, and we worked with them to create a 2015 calendar featuring select artists.
The cover and each month feature a selected piece of art, from paintings and drawings to jewelry, as well as an inspirational quote, information about the artist, and a quote from them regarding their feelings about art. Awareness Months are also labeled, inkeeping with their desire to create awareness of the issues their clients struggle with.
SCSB held an art show in December 2014 to display all of the participants' artworks; the calendar was given to attendees and was also sent to partners and stakeholders.
Flip through the calendar below. Please note that, although the file below flips horizontally, the calendar itself hangs & opens vertically.