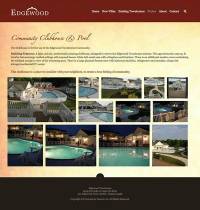 Anyone who works from home knows that there are a few things that can make it hard. You have to be self-motivated, but you also need to be able to separate your personal and work life. That separation can be hard to achieve, especially if you don't have a room that is exclusively your office (plus, if you don't have that your office space isn't tax deductible!).
Working on the new website for Edgewood Townhomes & Villas brought back a lot of memories from when I used to work out of an at-home office. Back in the 90's we even added on to our house in Florida so I would have a dedicated work space.
Another issue at-home workers have is having high speed internet access, which I fortunately had access to even then, but many people in rural Southern Virginia still don't have high speed access.
As we worked on Edgewood's site, I couldn't help but think that I would definitely consider buying in that community if I were in the market for a new home in Southern Virginia. The floorplans are great, and there are options for buildouts of loft space and upstairs rooms that made me drool.