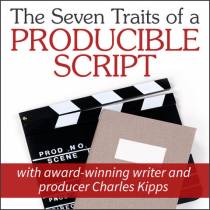 Writer/producer Charles Kipps has written for Law & Order and Columbo, two of the longest running cop franchises ever, and is the recipient of an Emmy, a Peabody, and a Mystery Writers of America Edgar Award. This afternoon he presented this webinar. Obviously it's too late to participate in the live webinar, but you can add it to your wishlist to be notified when you can access the recorded webinar.
Charles has written features, both indie and studio, and his television credits include episodic and long form. He'll explain what helped take these scripts from his desk to the screen.
Unlike other webinars you may have attended, The Seven Traits of a Producible Script will not tell you how to write, rather it will show you how to take what you write and craft it into something industry professionals will recognize as a potential project.
Anyone who's seriously interested in taking their script to the screen should add this to their wishlist. He'll explain what keeps some scripts from going into production and what can cause films to go over budget.
Takes you from Fade In to Fade Out, element by element, and explains how to supercharge your script for submission
Make your screenplay more attractive in today's money-driven marketplace
What you don't know about production and why it may be holding you back