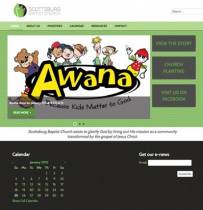 The easiest way for churches to attract young families and youth is to have a nice, user friendly site design and actively use the web for communication.
From our years of experience, though, we know that churches tend to do one of the following:
try to do it themselves and after months (or years, in some cases we've seen!) still have no site;
have a hobbyist create it and not be able to reach them when help is needed (not to mention that the site probably won't meet web standards), or
pay an arm and a leg (or in the words of a client, "half of your body") to unscrupulous companies that take advantage of their inexperience.
For that reason, we've created a new special website design package just for churches.
Your website will include an events calendar, photo gallery system, be able to update the website by logging in through any browser, and documents downloads (for forms, etc.), and select church staff or members will be able to edit it by logging in through your browser.
Your church can have a professional website and not bust the budget.
The church website design package is offered through our small business division, Ballowax. The same talented team that designs our large sites will create your site, but average churches don't usually need all the strategy, consulting, content generation, and copywriting that go along with our typical projects. Those services are what drive the cost of large projects.
Visit this page to let us know you're interested, and we'll get back to you quickly to get the ball rolling.